(PCP)
He had considered going to work in Iraq as a contract truck driver for a couple of years. And, as his marriage had ended in divorce, the time just seemed right. After a call to a recruiter, he was sure, that was what he wanted to do. It was just time for a change in his life, he thought. After a whirlwind thirty days of psychological testing, physical examinations, applications, paperwork and things like passport photos, he found himself in Houston Texas. Then the orientation period started where he learned about the things related to his mission in Iraq.
Suddenly it was done. Then the wait began. During this time of waiting for "wheels up" and deployment over to Iraq, he had time to reflect. His life had indeed changed as he wanted, and he would be able to better provide for his family at home.
Then the call came, they would fly to Germany, then on to Dubai where they would spend the night. It was exciting to be off on such a grand international adventure. As the wheels came up and he was getting paid for his time, it made it all the better. Being proud of his skills as a truck driver and going on a mission for his country , in defense of freedom, and getting paid well for this grand adventure, made the frantic thirty day wait worth the effort !
The next day as they landed at Baghdad airport and he came off of the plane, the intense heat hit him like a sledge hammer. They were escorted from the plane to the terminal by armed military. It began to sink in, suddenly they had stepped from a civilian setting, into a combat zone.
The next stop was at Camp Anaconda where they began convoy operations. Each day as they waited for assignment to a convoy, they were in a concrete reinforced Tee area called "the boardwalk". Sometimes they would haul ice in refrigerated semi trailers and sometimes they would haul military equipment such as Humvees. At times there would be as many as twenty five semis escorted by five gun trucks. Once he was on a single truck mission with two gun trucks escorting.
The trucks were mostly Mercedes benz with a Volvo every now and then. The trucks had very good air conditioning and it was a good thing. His first day on the job temperatures went well over 100 degrees.
Then one day it happened, an ambush. And he was shot twice after his truck was disabled by a rocket propelled grenade, Two holes suddenly appeared in the windshield of his truck and his right arm was shattered.
Reinforcements in the form of a helicopter gunship arrived and Preston Wheeler was transported back to Camp Anaconda for the first of several surgerys. A convoy medic in a "bob" truck had helped Preston to staunch the flow of blood and he was able to get out of his truck mostly unaided. However the Ouachita Mountain boy had lost enough blood that he couldn't make it from the heilo all the way to the hospital without a near collapse.
Heavily medicated on his return trip to the United States, the trip was mostly a blur with a stop or two for fuel.
Home now and on the mend, Preston Wheeler relates the details of his civilian mission in Iraq with pride that he was able to serve, though some memories are yet painful.
Preston has met the requirements for the Department of Defense's prestigious Defense of Freedom Medal, the civilian equivalent of the Purple Heart.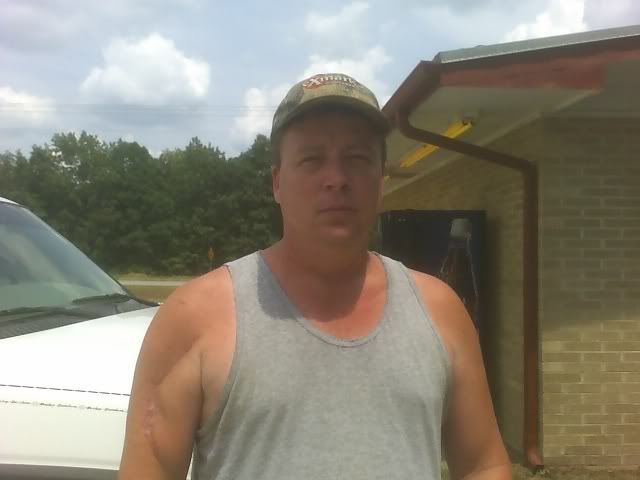 >