ROUNDUP
The last day at the lake was always called "Roundup day". It was the day that the camp was broken down and rounded up, or packed up to go home. It was always a sad/happy day for the old friends. They had lived in the camping spot for the largest part of two weeks, enjoying every minute of it. It was always sad to break down the camp.
After the sunrise chair lineup, they lingered over cups of coffee. The talk was about grandkids and how they had grown or some outrageous joke that had been pulled off. They discussed plans for a summer camping trip with fish fry. Talked about scuba diving gear and dive sites to explore and spearfish. Plans were made to carry scuba diving tanks to have their annual dissassembly and visual inspection. There were plans made to do an equipment check out and skills refresher dive trip to Lake Ouachita.
After a late breakfast the camp was starting to look kind of "picked over" as it was gradually disassembled. The friend's boat, "HAD-A-WEIGH", was left in the water and "HARM'S WEIGH" was pulled out of the lake . They had plans to make one last tour around the lake before leaving.
The Roundup was progressing slowly to a conclusion when lunch time arrived. During the last couple of casts of the jugs they had placed a few of the jugs in a place where they had consistently caught oppelousas catfish or flathead catfish. They had kept the fillets in ice water for the occasion of the last lunch at the lake. They liked them a little well done and slightly crispy.
The last lunch was always very simple so that there wasn't much to clean up after the meal.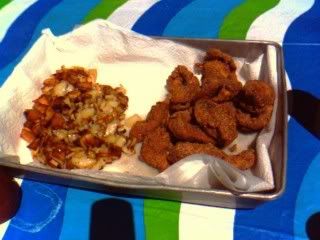 Capn' AL's "extra crispy" order
After lunch the first order of business was to make the final tour of the lake. They always started off by going towards Kirby Landing, around through Bear creek Landing then up to Daisy State Park, Self Creek Marina and arrowhead point. Down past Rock Creek, by the Narrows Dam and by the SWAHA Marina. The last stop on the tour was chimney rock where they snapped a couple of photos.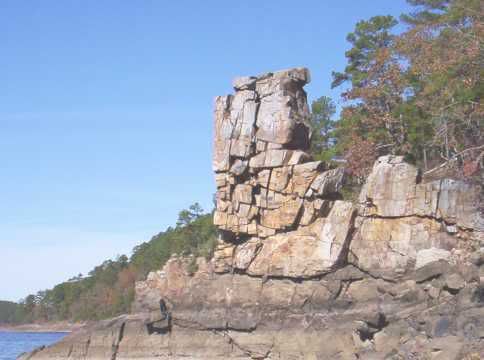 Chimney Rock looking West
By the time they had circled the lake it was mid afternoon and time to haul the boat out until the next time.
A few sticks of firewood that were left over, were placed right by the fire ring for the next campers.
One last look at the campsite to make sure that it would be ready for the next visitor, then they were off to home.
Though they were sad to be leaving the lake, it was always good to be back home in the Heart of the Ouachitas.