When we arrived at Coffeyville to work at Amazon, we had a choice of several places to park our Oliver Travel trailer. Some of those choices were, Heritage Rv park, Walter Johnson Rv park, Riverside Rv park and Elk City Lake State Park. The Lake being the furtherest, with a commute of about 20 minutes.
Being Mountain folks made the choice easy for us. We chose the Lake !
Many of the "Old Timers" at Amazon prefer Walter Johnson, a closer commute or have friends there and have prepared their RV's for Winter with bales of hay duct taped up in heavy plastic garbage bags. Click photo for larger view.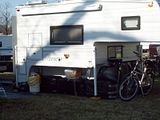 Wonder if we will be wishing for this winterizing technique before this workamper stint is over ? Click the photo below to view a short video of Walter Johnson Memorial RV Park operated by the city of Coffeyville Kansas.