The long hours that we are working at Amazon have been a physical challenge for Betty and I, but we are about half way through the season. It is also hard for our dogs Poco and Dillon.
Today is a day off for us and we have slept in, catching up on the news and weather, ate out and walked the dogs. During the walk around the Prarie Meadows Camp sites loop we saw that one of our neighbors is also a Geocacher and that their Volkswagon is a travel bug, much like our Oliver travel trailer is. Had the camera with me so I took these pix: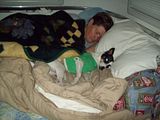 Look at Poco, who has slipped into my warm spot, pillow and all, when I got up.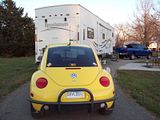 Here is a look at the neighbors VW and fifth wheel toy hauler RV. I wonder if the VW is hauled inside ?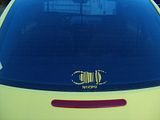 A look at the travel bug lugo in the bug's rear window. Note the license plate on this cool VW with nerf bar bumpers.